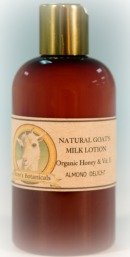 Rose's lotions are extremely nourishing to the skin leaving the skin silky smooth and hydrated.
Easy as 1,2,3....
Choose your favorite sent , caress your skin with the creamy goodness and lastly enjoy soft, supple skin all day long.
Goats Milk is packed with proteins, vitamins and amino acids; Which are easily absorbed into the skin.

If there is a scent that you would like that is not on the list: choose UNSCENTED and then in the comments write the scent you would like, or you can send an e-mail to us.